The Sub Atlantic Tomahawk is a 3000msw rated high-power electric Work Class ROV system suitable for a large variety of tasks, both survey and work.
Based on SUB-CAN state-of-the-art control system Tomahawk provides:
Advanced I/O and power output control
Advanced diagnostics for improved productivity
Advanced Man-Machine Interface
High thrust
Dynamic station keeping and navigation
Considerable payload
Unparalleled instrumentation interface capability
Considerable hydraulic tooling power
Large variety of dedicated tools, both hydraulic and electric
The system can be configured to effectively accomplish a wide range of demanding mission interfacing latest generation survey instrumentation and tooling.
Tomahawk system is provided with long excursion TMS, LARS (ATEX/Eexd, single lift, ISO 20' footprint) and dedicated A60 Control Van and DNV Store Van as a standard.
Live boating configuration is also available on request.
Mohican can be used for all inspection tasks, NDT, light intervention, pipeline/cable/seabed survey, diver assist/safety, harbour & port security, scientific survey & data collection, renewable energy projects, civil engineering, long tunnel excursion and for inland waterways.
The 'dynamic vector' feature enables the operator to adjust thruster angles on the fly for agile manoeuvring and the 3000v 400Hz power system is particularly suited to long tether excursions and deep liveboating operations. The subCAN control system provides advanced diagnostics, precise vehicle control and reduced reactive maintenance. Thus, the benefit of increased dive time, reduced vessel standby and operating costs.
The system is supplied with dedicated Launch and Recovery System (LARS) and Tethered Management System (TMS).
The BlueROV2 is a smooth, stable, and highly manoeuvrable mini ROV comprised of six thrusters, electronics and battery enclosures, and a rugged frame. Powerful but dimmable lights provide excellent illumination for the live HD video feed.
Equipped with six powerful T200 thrusters and Basic ESCs, the BlueROV2 has the best thrust-to-weight ratio in its class to perform demanding tasks. It is ideal for operations in shallow to moderate waters, with a standard 100m depth rating.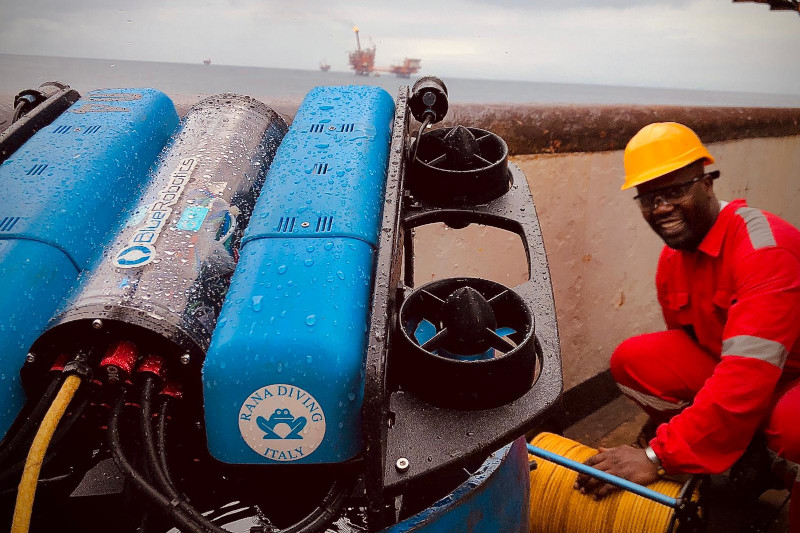 The ROV Pollux III is an observation class ROV with an HD polyethylene frame, equipped with 4 electrical motors and with the following specifications:
CAMERA SYSTEM
The main ROV camera is fitted within the POD and it is installed on a dedicated support that enables a tilt angle up to 160°. The ROV system can bring to the surface 2 video signal at the same time, chosen from a maximum of 4 sources. Thus it is possible to install additional cameras and camcorders devices.
ACCESSORIES
Further to the standard video equipment, the ROV Pollux III, can be outfitted with a wide range of accessories to satisfy client requirements.
Some examples of accessories include: manipulator, sonar, HD camcorders, wall thickness gauge, CP probe and pipe tracker.
Contact us
We have been our Client's eyes and hands into the water for over 50 years.
We can assist you in complex projects and take full responsibility on critical packages to help you to reach your goals.